Description
SPEC (1cm = approx. 0.39inch / 1g = approx. 0.03oz)
| | | |
| --- | --- | --- |
| Material | : Wood (Hinoki, Japanese cypress) | |
| Size (cm) | : H26 x W12 x D12 | *1cm = 0.39inch |
| Weight (g) | : 800 | *1g = 0.03oz |
The production process of this statue.
The beginning rough cutting is machine cutting. The finishing process is
handcarving by craftsman.
From this process, it's bringing low cost.
If you would like to get a statue which is made with all hand carving process
by craftsman, the cost would be more than 3,500.00 USD at least. All handcraft
process (it need more than 10 years practice) is such an astounding and
sophisticated works. If you would like to get all handcraft process statue,
please contact me. I can ask craftsman to make it for you.
---

AMIDA NYORAI is one of Buddha.
AMIDA means "the iternal light". AMIDA shine on our world. And
AMIDA doesn't overlook us. In Heian period, Japanese had believed strongly
in AMIDA who meet us after death. Because Amida take us to Jodo (like a
heaven) as riding on their clouds. "Namu Amida Butsu" is the
most famous sentence of Buddhism sutra.

Especially, AMIDA NYORAI is believed strongly in Tibet and Japan.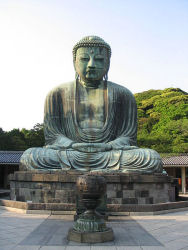 It's the principal image for dog and wild boar birth year of the twelve
zodiacal signs. Amida-Nyorai saves dog and wild boar year itself, and people
who were born in dog and wild boar year.
Of course, you can get what you want regardless of the twelve zodiacal
signs.